PE versus PP - What are the differences?
PP, PE, HDPE, PO, Red, Blue, Green ... How do you make the choice for the right types of plastic pallets, boxes, lids or other logistics aids for your application? Our plastic products are made of different types of plastic, each of which has its own advantages and disadvantages. (virgin) HDPE plastic, for example, is the standard for use in the food industry. In this blog, we explain how the properties of PE and PP are used in practice with the aim of providing insight into the employability of your application (s).
Which to choose between Polyethylene (PE) and Polypropylene (PP).
Although these types of plastic have relatively many similarities, there are certainly important differences to be noted. We are happy to explain this on the basis of the different applications.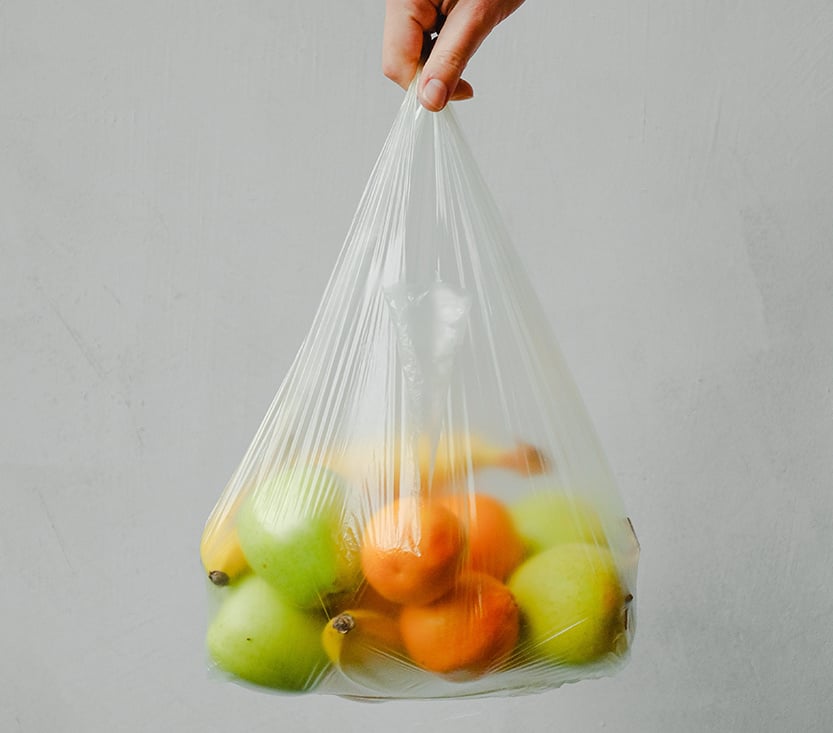 Polyethylene is the most widely used plastic worldwide, accounting for about a third of all plastics produced and half of all plastic packaging. In the production of the well-known plastic bottles, bags and other packaging material, LDPE, or Low-Density polyethylene, is often chosen. LDPE is tough, flexible and strong and therefore suitable for wide application in the industry and consumer market. HDPE, where HD stands for High Density, is widely used in the chemical industry (drip trays), in swimming pools, (water) storage tanks, cutting boards and applications in the food industry.
Polypropylene is stiffer, harder and generally stronger than PE and is therefore widely used in, for example, the furniture and car industry. It can withstand a temperature of +140°C for a short time but is relatively fragile at sub-zero temperatures. PP is usually slightly more expensive than PE.
PE and PP products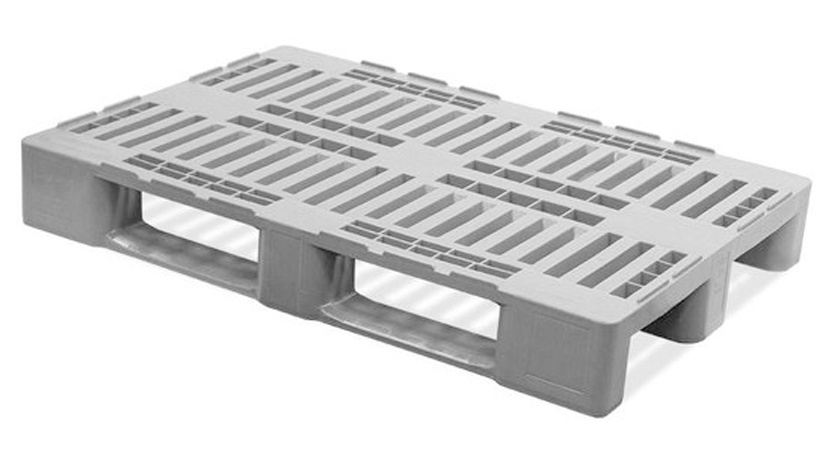 Plastic pallets or plastic bins are mainly made from new or recycled material. The choice of the most suitable material depends on the type of use. For example, a PE pallet is more resistant to shocks, especially when used at low temperatures, while a PP pallet performs better at high temperatures.
If you work in an environment where pallets come into contact with food, it is better to use a pure HDPE product, such as our H1 pallet, instead of another type of plastic. If, on the other hand, you are looking for an economical and eco-friendly product, recycled plastic pallets are ideal because of the price and their minimal impact on the environment.
Recognise your plastics!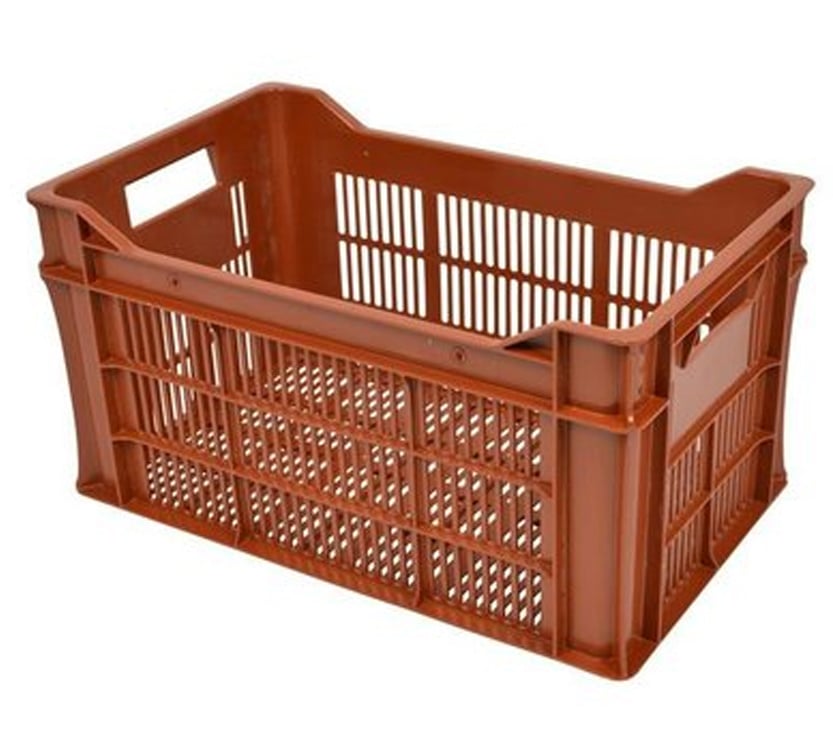 In general, colour is a good indicator to recognize the type of plastic and thus the qualities of a container or pallet. If the product has a specific colour - for example blue, green, grey or brown - it will in many cases be made of virgin material and therefore suitable for the transport of food products. Most of our food containers, such as the E2 meat crate for meat transport or the 'agri' containers for fruit and vegetables, are coloured and suitable for contact with food. Some exceptions for the plastic containers, some of which are in black, are also suitable for foodstuffs. Our products always clearly indicate if they are suitable for use in the food industry.
On the other hand, black plastic pallets are generally not suitable for the transport of foodstuffs, foodstuffs or pharmaceutical products. Since the material is not completely new, and therefore no guarantee can be given that the plastic is unpolluted, they are not compatible with sectors where hygienic conditions must be of impeccable nature.
Nice to know
Did you know that some pallets are made from recycled diapers and other common waste? The pallet or plastic box ID card, in addition to the datasheet itself, is intended to learn more about the date of manufacture and other characteristics of the plastic. The more you look at the pallet, the more you will learn and recognise about it. There are different logos, each with its own meaning: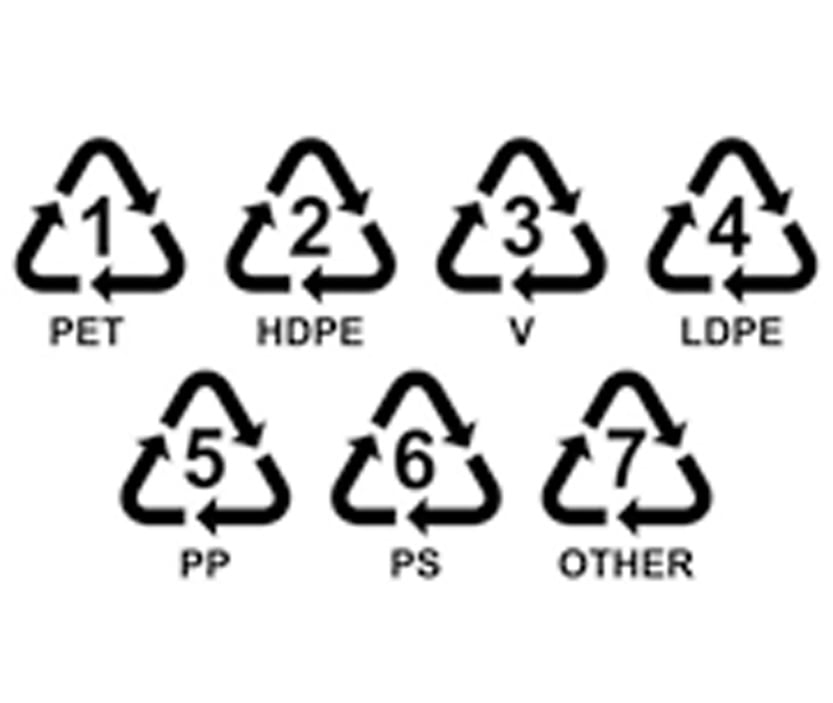 For example, if the packaging has a logo with a glass and a fork, this means that you can store and transport food and/or pharmaceutical products with this product.
To know the date of manufacture, take a closer look: there are two small clocks that indicate the month and year of manufacture.
You will also find different triangular logos with different numbers and abbreviations. These triangles indicate the density of the plastic and the abbreviations the plastic uses to make the product.
We hope to have given you a little more insight into the different types of plastic and their application. Do you have any questions about this blog regarding types of plastic and its application for your sector or organization? Contact us via [email protected] or 01777 322100 .