Ben Boughtwood
Plastic Bins - Organise, Manage & More!
Storage trays, folding crates, stacking trays, storage trays, pallet boxes; We can go on like this for a while. Plastic containers exist in more types than we can list here. Finding exactly what you are looking for becomes a real challenge in this way and we are happy to help. Read more about the functions and possibilities of plastic bins below on the basis of our extensive range.
1. Pallet boxes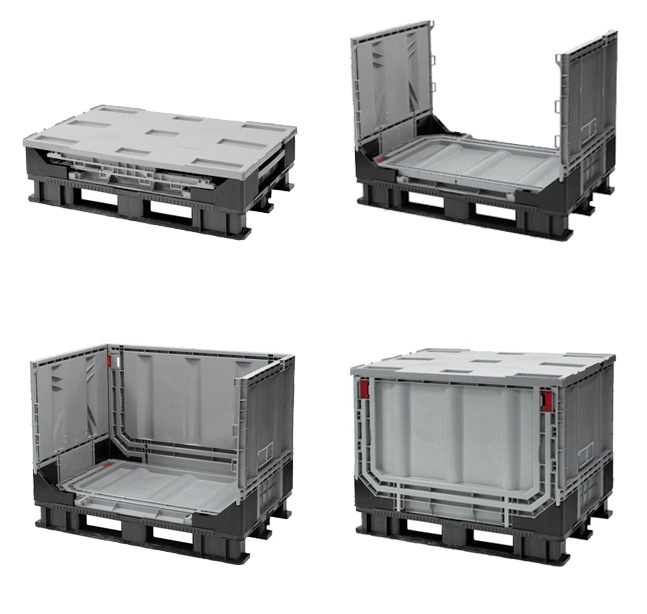 With the harvest season in progress, it is a heyday for the pallet box. These are widely used to store and transport fruit and vegetables. Also in many other sectors deployed due to its strength and versatility, they are to the agriculture sector, small parts store, and safe to transport. Storing or returning empty becomes even more convenient when you opt for a collapsible or collapsible variant. You regain up to 67% storage space by folding and storing such a more compact variant. Highly recommended when storage or transport capacity must be used as efficiently as possible. Pallet boxes are available up to 800L and 1600 kg load capacity and can take a beating! Most pallet boxes are made in 1200x800 mm (Euro pallet ) or 1200x1000 mm ( Block pallet ) format.
2. Stacking bins (Euro standard)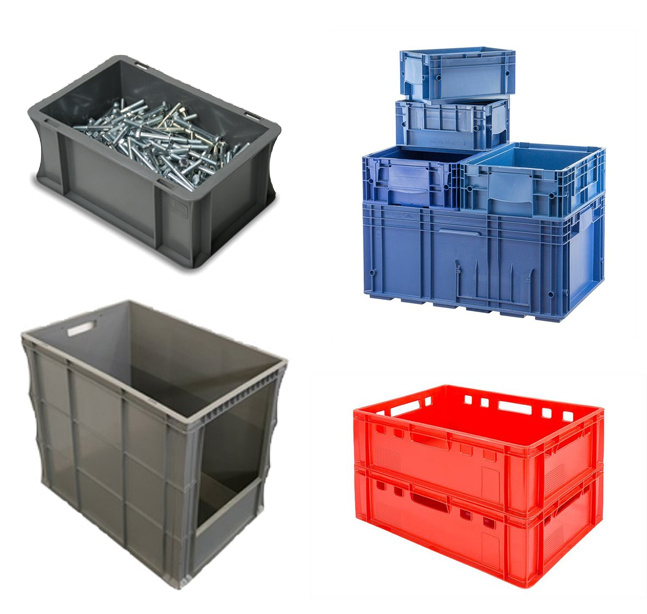 Stacking bins - in many shapes and sizes - are the cornerstone for many warehouses and transporters. Variants are, for example, nestable, stackable, perforated, have a front opening, or are made of hygienic plastic. The Logistiekonline range of stacking bins is subdivided into the so-called Euronorm bins, KLT bins, revolving stacking bins and bracket boxes. The Euronorm containers can be fitted with a matching Euro plastic lid if you want to further protect your products.
Dimensions of Euro plastic containers are logically constructed in a ratio of 2:3. This is also referred to in the industry as a college module or Euro format. As a result, the dimensions of the bottom (length x width) are mutually adjusted in such a way that different sizes can still be stacked. These bottom dimensions, therefore, comply with the 'Euronorm' and are as follows: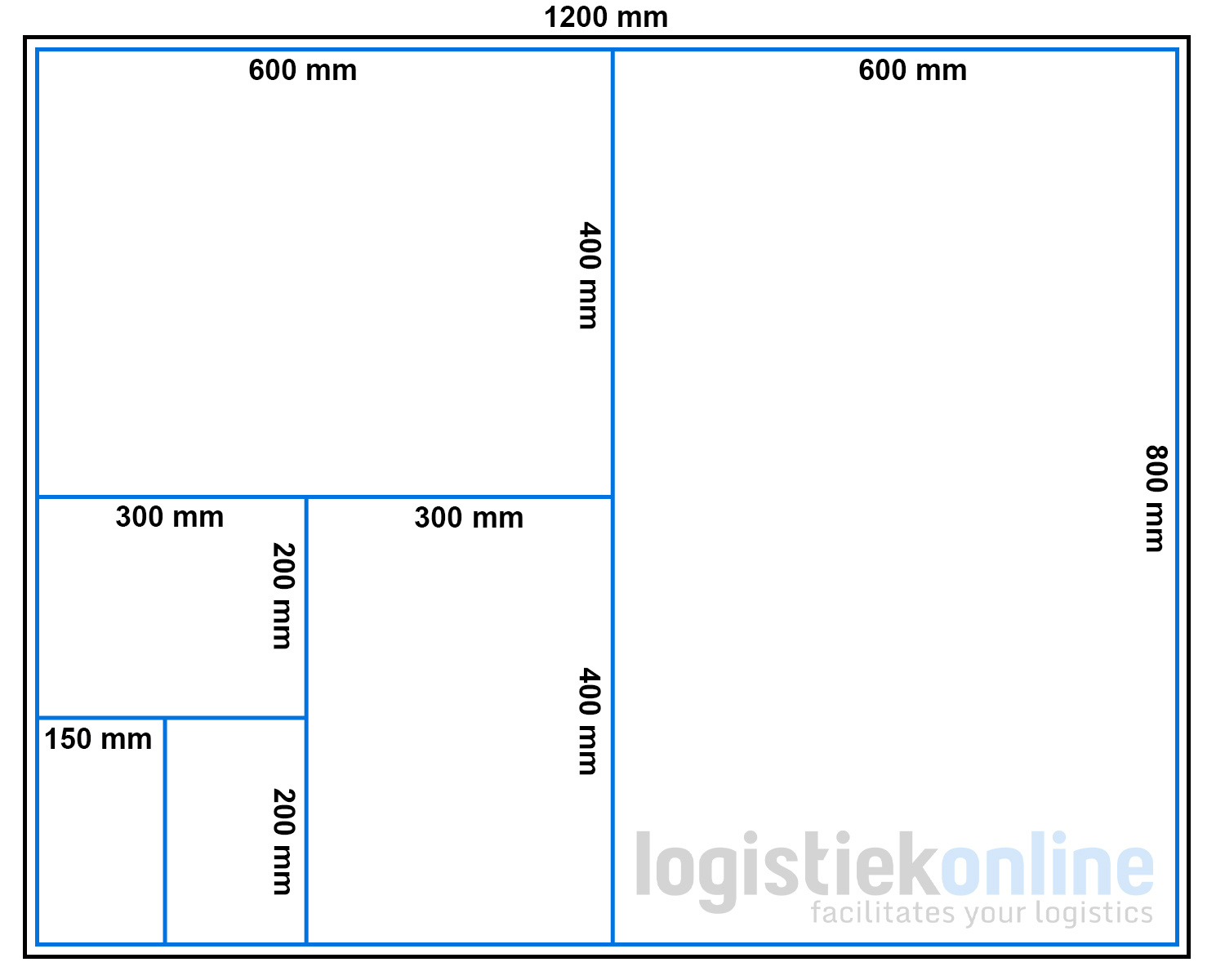 300x200mm

400 x 300mm

600 x 400mm

800 x 600mm

1200 x 800 mm (Euro pallet format)
The various stacking bins are therefore of great added value in warehouses where space must be used optimally and when a lot of small items have to be stored or transported.
Storage bins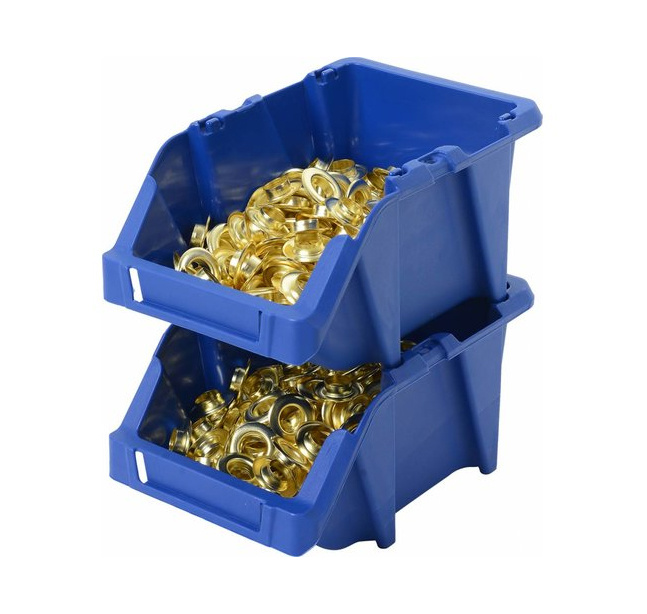 When an overview has to be created in the inventory of screws, bolts, or other small materials, storage bins offer an excellent solution. Recently we even offer one-sided and two-sided racks including storage bins (in different colors and sizes). Our individual trays are available in different sizes, 82% nestable, blue and resistant to oils, fats, and acids. Finally, the assortment box should not be missing for the really small items. The large and small variants both contain 18 squares. Ideal for the smallest material you want to store. Whichever setting you choose, storage bins help you to keep small goods sorted within reach.
Folding crates / Agri crates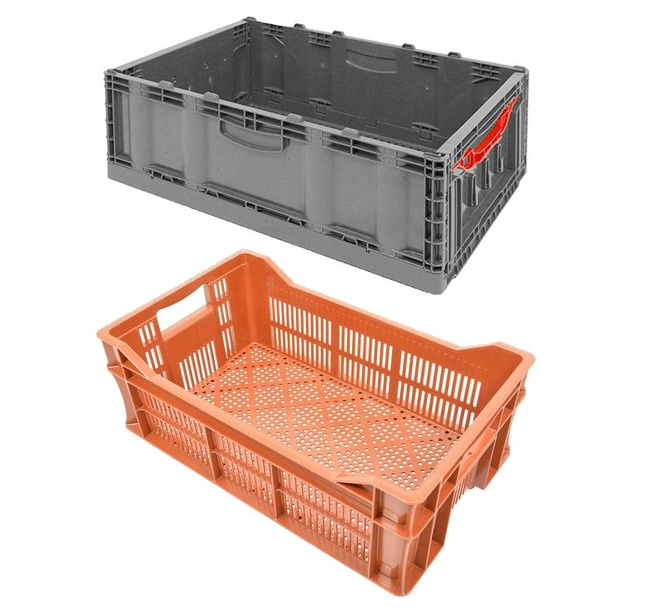 Folding crates are ideal for repeated use in both private and professional settings. They can take a beating and fold very compactly, ideal for storage at home or during return transport where space is limited. Folding is a matter of seconds; By pressing the lock on the short walls, it simply folds in. Our range includes crates from 18L to 59L, of which most folding crates have a bottom surface of 600×400 mm, so a Euronorm format.
Agri crates are always perforated so that sand can be shaken out and water can flow through. Ideal for the agricultural and horticultural sector, where drainage during the cultivation phase and weight reduction during transport are very determining factors. Agri crates are usually made of pure HDPE, also called virgin HDPE. This type of plastic is food safe and can be easily cleaned after use. That is why these crates have been labeled 'For the food industry on our website. They are available in various standardized sizes.
Barrels & barrels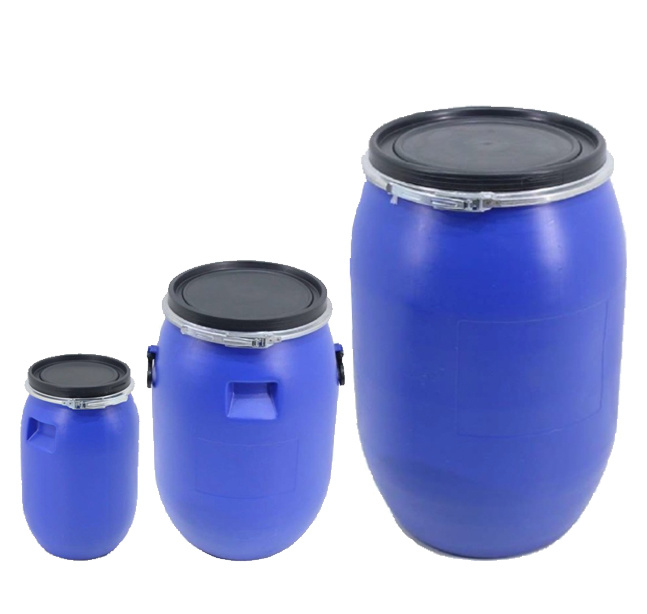 These (usually blue) barrels , also known as wide-necked barrels, are widely used in various sectors. Livestock farms, for example, store feed or manure in it and chemical liquids are stored in industry. They are often equipped with a sheet steel clamping ring that seals the whole thing airtight and watertight. Variants without this clamping ring are not 100% airtight and watertight. The barrels can be stacked up to 3 high and take up relatively little space. Up to and including the 60L variant, they are equipped with handles. In case of industrial use, it can be useful or even mandatory to place them on drip trays so that leakages are collected.
lidded boxes
These boxes with integrated lids are extremely popular as a means of transport because of their easy lockability. They are therefore also called transport containers or distribution containers and can easily be placed on dollies or in roll containers for transport. With a relatively high carrying capacity and strength, they are very suitable for transporting more fragile items. If you also transport valuable goods, you can seal the lidded box for shipment. The lidded boxes in our range have a bottom surface of 400×300 mm or 600×400 mm, are nestable and stackable, and are 28L to 95L in size.
Insulate products extra in the lidded boxes? Special isothermal liners are available to protect products against temperature (changes) from the outside.
Plastic lids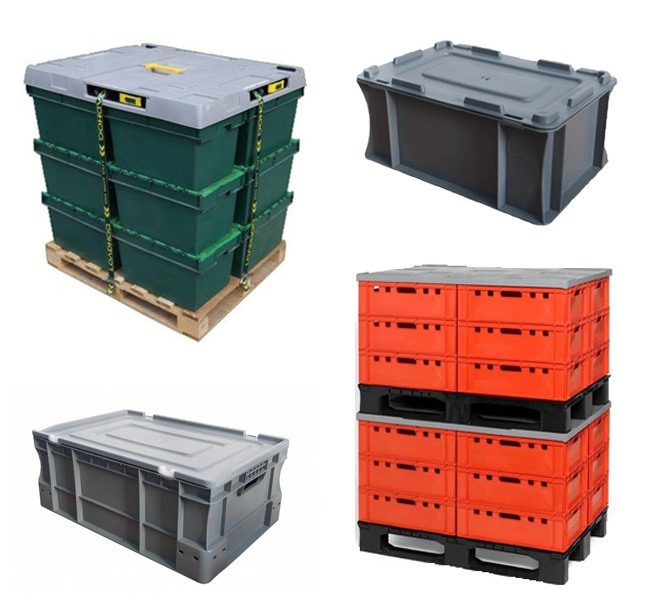 The right lid can greatly increase convenience and efficiency during transport or storage of plastic bins or pallet boxes. That is why our range also offers a plastic lid in the same size for every standard size plastic container. Depending on the type of container, lids with hinges are even available so that they 'click' onto the container, in contrast to lay-on lids. As a result, they do not blow away during outdoor use or accidentally slide off the container when it is being handled. Dust, rain and other unwanted pollution are neatly kept outside the box in this way!
Can't make a choice yet and have questions about plastic containers?? Contact us via [email protected] or 01777 322100.