Wheels - this is how you choose the right one for your logistic needs
Swivel wheels, fixed-wheel castors, diameter, brakes, rubber, polypropylene, TPR... If you are looking for the right wheels for your roll container or trolley, you have a lot to choose from. The right wheels have a strong influence on the carrying capacity, ease of use and life span. This blog discusses how exactly the best choice is made. So you know what to look and you always transport your cargo with the greatest possible ease.
Material choice
One of the most important properties is the type of material from which the tread of the wheel is made. The tread is the outer part of the wheel that contacts the surface. At Rotomshop.co.uk you can choose from wheels made of rubber, thermoplastic rubber (TPR), polyurethane (PU), polypropylene (PP) or polyamide (PA). Sometimes the core of the wheel consists of a different material than the tread. This is to increase load capacity or lower the price. The tread material in particular is a critical factor in daily use.
Thanks to their softness, wheels made of rubber or TPR are more flexible than the plastic (PP & PA) variants. This flexibility absorbs the shocks very well and is therefore also sound-absorbing. This is why these materials are ideally suited for use in gymnasiums, hospitals, retail or other locations where floors are more vulnerable and sensitive to streaks. In addition to previous materials, PU is also available. This material is an intermediate form of plastic and rubber and is ideal when the surfaces of use vary widely, such as for logistics use in inner cities with a mix of indoor and outdoor use. Just like rubber or TPR, PU does not streak and is reasonably sound-insulating.
Wheels with a polypropylene (PP) or polyamide (PA) tread are often cheaper to buy and have a relatively high carrying capacity. They are often used for trolleys, flight cases and are of course fitted to part of our range of rolling containers. PA has a wider temperature range than PP. Both are strong and have low rolling resistance and are durable, but are not particularly sound-absorbing.
Fixed and swivel wheels (with brake)
Rolling containers are usually equipped with two swivel wheels in the front and two fixed-wheels in the back. Our wheels are usually equipped with a metal mounting plate and reinforcements on the corners. If you choose a 3-sided or 4-sided roll container, then the swivel wheels are fitted as standard on the side where you load and unload. We always recommend pushing a roll container on the side where the swivel wheels are attached. This is usually the safest solution because you don't put yourself between a (heavy) moving roll container and other objects.
For even more convenience you can choose swivel wheels with a brake. These are easy to operate by foot and can prevent unsafe situations with heavy cargo rolling away. It is important that you only apply these brakes when on a flat surface. To prevent accidents, never put the load on a sloping surface.
Carrying capacity and bearers
The total load capacity of a wheel is strongly related to the choice of material and the type of bearing the wheel is equipped with. The carrying capacity can vary greatly from around 70 kg to as much as 500+ kg. The strongest wheels are also called heavy duty wheels. If the wheels are used frequently and intensively, we recommend wheels equipped with a ball bearing. These are generally more durable, have lower rolling resistance and longer service life than wheels fitted with a plain or roller bearing. The table below shows which important properties you can choose.
Temperature, diameter and hole pattern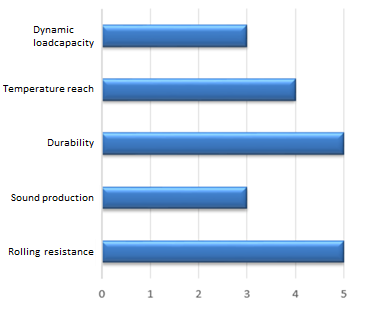 If the wheels are used in environments where the temperature varies greatly, choose wheels that can withstand it. The temperature range is from about -40 °C to 80 °C. A specific temperature indication is given for each castor.
In addition to the temperature, the wheel diameter is also important. To a certain extent: the larger this diameter, the less force you have to apply to move your item. In addition, a larger wheel diameter is more suitable for use on loose and uneven surfaces. Think of ridges, grooves and other obstacles the roller container has to cross.
Finally, when ordering (loose) wheels it is wise to pay attention to the hole pattern. This pattern has certain dimensions, such as 80x60 mm or 105x80/52 mm. These must match the hole pattern of the roller container.
Rotomshop.co.uk offers possibilities
At rotomshop.co.uk, it is possible to create a custom roll container with different types of wheels. This increases the ease of use and we are happy to advise you on the right choice. In addition, wheels are available separately so that you can easily carry out repairs yourself. For questions about how to do this yourself or other questions about this blog, please contact us at [email protected]