Ben Boughtwood
Which hand truck do I need?
Hand trucks come in many types and for many purposes and we are often asked which hand truck someone should choose. Folding hand trucks, for example, are super handy at home and can be stored compactly. Many hand carts have a specific purpose such as a barrel hand truck, crate hand truck or a hand truck for welding machines. We even have a stair runner hand truck! Almost all our hand trucks are from the Dutch brand Matador. That means quality, sturdiness and a diverse range.
Finding the correct hand truck for a specific task or work environment can be tricky. At Rotomshop we understand that. We are therefore happy to help you with your choice by neatly listing the various hand trucks and hand carts for you and explaining applications. This way you know which hand truck is best suited for your sector or job.
Hand trucks and hand carts for various purposes
Some trolleys have a load capacity of up to 350kg. But perhaps other features are more important to you than payload alone. For example, an extra-large footplate of 450x235mm can also be very useful for specific objects. Or, for example, handles with hand protection so that your fingers do not get caught in narrow spaces. And how about pneumatic tires for minimal vibration or puncture-free rubber tyres for the most treacherous surfaces?
Because there are many properties, we are happy to break down our hand trucks for you by theme. If you search our webshop for these terms or click on one of the links below, you will immediately find what you are looking for. We kick off with folding hand trucks. Collapsible or folding hand trucks are very popular because they come into their own in situations with limited space.
Foldable hand trucks
Foldable hand trucks, also known as folding hand carts are perfect for users who occasionally want to use a hand truck or who always want to take it with them in the car. Especially when the storage space on the road or on location is limited, our folding trolleys are an excellent solution. Foldable hand trucks are lightweight and fit easily in the trunk of the average car. The fact that they are collapsible and easy to store also makes them a favourite at trade fairs, offices, in smaller warehouses or even at home during jobs where heavier goods have to be moved.
View the foldable hand trucks from Rotomshop here.
Crate trolleys
Crate hand trucks are specially designed for agri crates, Euro Stacking Containers, Distribution Boxes and other (rectangular) storage devices that can be stacked together. Hand trolleys for crates and containers are distinguished because they often have a wider wheelbase and are therefore extra stable. In addition, the 'back' against which your crates or boxes rest is completely straight thanks to flattened tubes. This keeps your load nice and upright and the risk of shifting loads is reduced. This allows you to move multiple distribution boxes or crates at once, which saves a lot of time and meters.
View the crate trolleys from Rotomshop here.
Hand trucks for barrels
At first glance, barrel hand trucks are not much different from crate hand trucks. However, if you look closely, it becomes clear that the so-called back has a concave shape, so that barrels and bottles are much more firmly fixed, especially when the hand truck is tilted and in use. Lashing straps can of course be used to further secure the whole. With a weight capacity of up to 280kg, you can move even our largest drums and barrels of 220L from our range. Ideal for use in, for example, the chemical or agricultural sector, where barrels are often used for liquids, animal feed or spreading material.
View the barrel trolleys from Rotomshop here.
Hand trucks for specific jobs
Where the above selection of hand trucks is often widely used in practice, there are also hand trucks available for more specific circumstances. A stair runner hand truck, for example, or a burner hand truck has a special design that works best for certain activities. We are happy to explain this specific range of hand trucks to you.
Sack truck stair runner
The stair hand trucks are unique in their kind and suitable for one main purpose: the safe and controlled movement of loads up and down the stairs. An accident is in a small corner. This hand truck takes washing machines, refrigerators, cupboards and other equipment up and down the stairs with great care and greatly reduced risk. You simply lower the rubber, checkered tracks that can move a load of up to 175 kg without damaging your steps. Based on the maximum payload, the electric motor can lift the goods 10 to 17 steps thanks to a powerful battery. Once you are safely on top, you can retract the tracks and use the normal wheels to drive to your destination. Just like a normal hand truck would. All the way from A to B. A special hand truck for a complex job.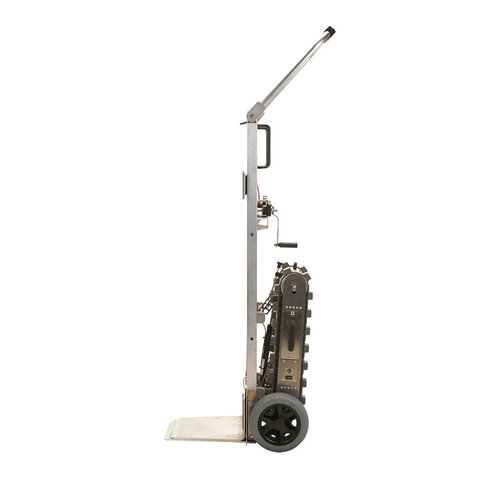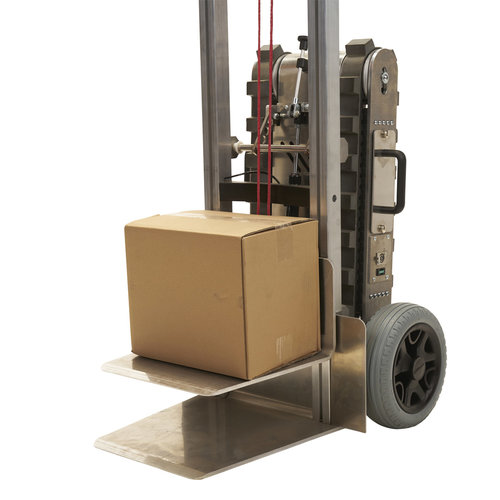 Hand truck for welding machine
Just like the stair runner hand truck, the welding machine hand truck is also unique in its kind and very popular with our customers. The hand cart is specially designed to mobilise both the gas bottle and the welding machine (transformer) for immediate use on location. The gas bottle is located between the wheels, the device is on the sting. This footplate is adjustable in height. When raised, two brackets provide space for, for example, a toolbox. These braces and at the same time provide stability when the assembly is standing upright as a normal footplate would. The brackets that also hold the handles also serve as a reel for the hoses and cables. The result is a compact and easily movable whole that provides a lot of convenience for every welder.
View the hand truck for welding machines from Rotomshop here.
Hand truck for burners
Our burner trolley, also called burner trolley, has an extra-large pitch for a gas bottle but is otherwise fairly compact and light. Ideal to take with you in the handy bus of a landscape gardener, roofer or other work environments where a burner is used. The stitch is suitable for gas bottles up to 10.5 kg and the tires are puncture-proof so that you do not drive them flat in rougher environments. In addition, the hand truck is equipped with a chain to secure the gas bottle and a bracket to hang the burner. The hand truck is designed with one handle so that you have your other hand free to handle the burner. A very unique design for a specific job.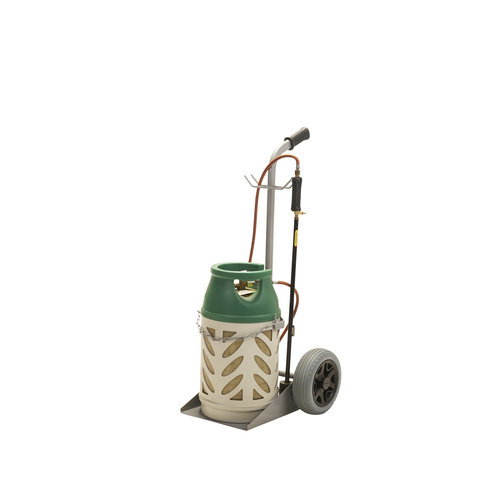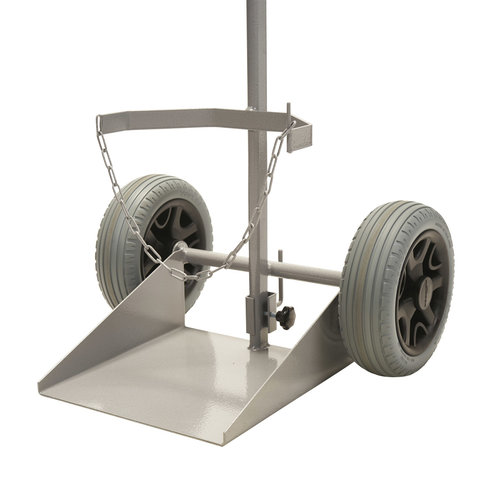 Hand trucks for construction
An extra sturdy hand truck for heavy use. Construction hand trucks are distinguished by an extra-wide pitch for more stability. This is often less deep so that the leverage on the sting is minimised and your hand truck is not overloaded. Most of these types of hand trucks are also provided with flattened tubes so that the load rests stably against the back. In addition, you can opt for variants with puncture-free wheels or for pneumatic tires that dampen vibrations best.
View the construction hand trucks from Rotomshop here.
A hand truck for everyone
Whether you want to work in a professional environment or at home; Hand trucks make various activities a lot safer, easier and more ergonomic. Order your hand truck from Rotomshop today and tackle that job!
Questions about this blog on hand trucks, hand carts or other matters regarding load carriers or the service we offer as Rotomshop? Please contact us via  [email protected]  or 01777 322100. We are happy to assist you!