Buy block pallets for transport and storage
Do you need New or Used block pallets for storage or transport? Then you have come to the right place at Rotomshop UK. Block pallets are often extra sturdy and are distinguished by a fixed size of 1200x1000mm. They are available in various types of material; At Rotomshop you will find wooden block pallets, plastic block pallets and even a variant of presswood. The right block pallet is therefore available for every job.

Types of block pallets
Block pallets are widely used as means of transport and storage in warehouses; Goods arrive on block pallets and are distributed across the warehouse on block pallets, ready for further distribution. Distinctive factors such as more or fewer top boards or skids ensure a firmer or extra light block pallet. This wide variation leads to a load capacity of 400kg for a relatively light wooden pallet, up to 3500kg for our most sturdy plastic pallet. This is about dynamic load capacity, which means that the pallets can be in motion. The static load capacity can be up to 14,000kg. In our blog about load capacity, you can read all about dynamic load capacity, static load capacity, racking load capacity and more!
Besides the difference in load-bearing capacity, it is good to take into account the difference in materials, as well as specific properties of a pallet such as a fully open or closed top deck, chemical resistance, moisture resistance, ISPM15 treatment (more below), food safety and nestability. Each product page, therefore, provides a detailed explanation of what the pallet is made of and what it is intended for.
Collomodular formats
Standard pallet sizes are so-called collomodular. This means that all other products and packaging that are also made according to the collomodular system make optimal use of space when combined in transport and storage. Block pallets (1200x1000 mm) and euro pallets (1200x800 mm) are the most common collomodular pallet sizes. The image below shows how other dimensions combine with those of these two pallet types, with the mutual length and width ratios remaining the same.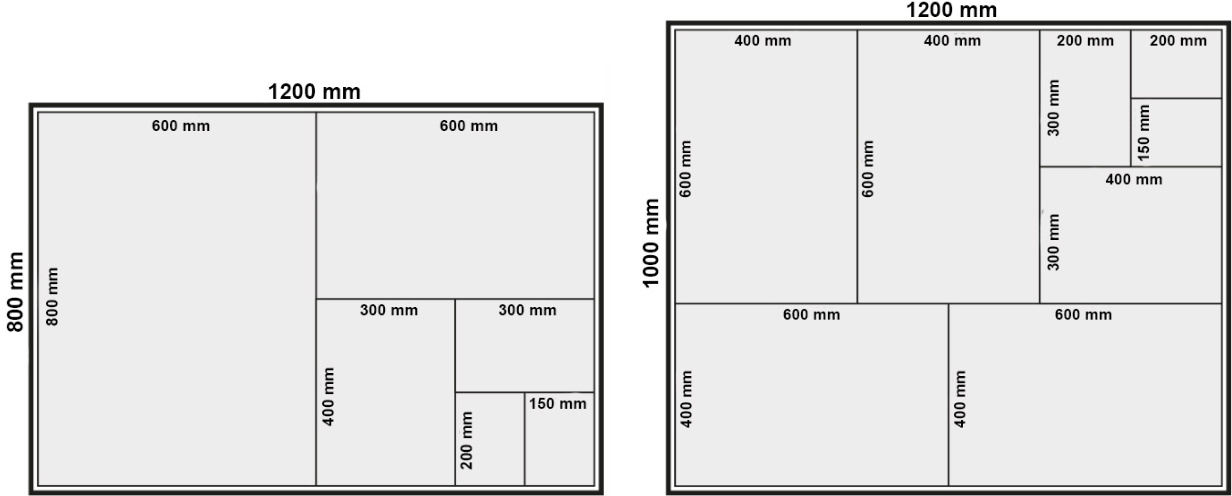 Heat treatment mandatory for export
Are you going to use wooden block pallets for export outside the European Union? Then a heat treatment is often mandatory. In our own drying rooms, we can give wooden pallets a heat treatment in accordance with the ISPM15 guideline so that they can be used for export to countries outside the European Union. Plastic block pallets would of course be an excellent alternative. Plastic pallets are not subject to the same phytosanitary requirements as the ISPM15 standard and can be exported without any problems.
Blogs about pallets
Would you like to learn more about our (block) pallets and their applications and properties? You can read in-depth information on one of our blogs!
Buy block pallets online
Rotomshop UK is the most logical choice in terms of webshop for the logistics sector. We have everything you need for your organisation in one place. New pallets, but also used pallets that still function are essential for transport. That is why you can of course buy them at Rotomshop.co.uk. We find it important that the pallets are of quality and therefore check them before they leave the house. Besides the fact that you can buy block pallets from us, we also have pallet collars and pallet collar lids for better transport or storage of products and goods.
Prefer a cheap and sustainable alternative? Then view our used pallets.
If you are interested in buying block pallets or other load carriers, you can order them directly on our webshop. If you have any questions or would like to purchase a larger quantity, please contact us via [email protected]  or via 01777 322 100 for a quote.