Euro Stacking Containers
(44)
All Euro Stacking Containers
Buy EuroPlastic Containers and KLT Containers
Euro containers, also called euro crates, are very handy logistical aids for the storage or distribution of goods. Euro crates are popular and practical plastic containers that are hygienic and durable and also relatively cheap. Thanks to the efficient format, you can also effortlessly stack the plastic containers on top of each other. These Euro plastic containers are also always stable. This means you do not have to worry during transport or during the storage of goods in these Euro storage boxes. In the wide range of Rotomshop, you are guaranteed to find suitable plastic boxes that perfectly match your work. From plastic pallet boxes to folding crates: Rotomshop has it all. Therefore, feel free to take a look at the above range of Euro storage boxes and KLT bins.
What are Euro containers?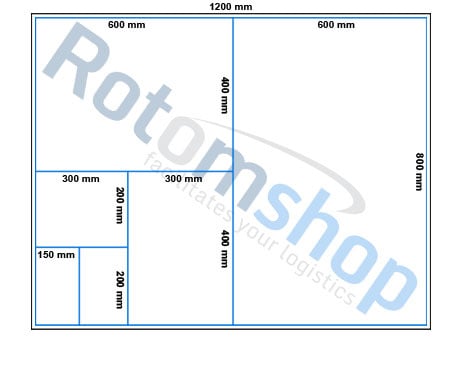 If you are looking for stackable plastic boxes that are ideal for transporting and storing goods, then you want Euro storage containers. These plastic Euro Containers have standardised dimensions, as shown in the picture on the right. The dimensions of the stackable plastic containers are based on the size of a standard industrial pallet, roll container and euro pallet, which we call collomodular in technical terms. The collomodular system has been developed on the basis of the ISO pallet 1000x1200 mm, also known as a block pallet, the Euro EPAL Pallet (1200x800mm) and the roll container (800x600mm). Based on these dimensions, a packaging module has been developed with a base size of 600x400mm. Prefer a more sustainable and cheaper alternative? Then view our used pallets. Do you want to be sure that you are buying boxes of the right size? In other words, it is advisable to purchase such a Euro storage container. Whatever size you ultimately select, the storage bin is guaranteed to fit. To make your transport and storage as efficient as possible, these Euronorm storage bins are indispensable.
What are KLT boxes?
In addition to Euro storage boxes and Euro crates, KLT boxes are also available at Rotomshop UK. Just like the Euro variant, these handy plastic bins have standardised dimensions. This means that the KLT plastic containers also have dimensions according to a set standard. As a result, the KLT boxes are in fact storage bins that are interchangeable in certain industries and stackable with each other like the Euro storage bins, only they have a different appearance. This allows you to use the available space even more efficiently and decisively.
Plastic box alternatives
Below are some good alternatives when Euro containers or KLT containers are just not the right match for your needs:
Buy Euro Containers at Rotomshop UK
The Euro plastic crates available at Rotomshop meet high-quality requirements. In addition, all Euro storage boxes from Rotomshop can be perfectly stacked on pallets, dollies and roll containers. This is not only safe, but it is also very practical. That is why you will find Euro containers in various sizes and designs in our range. There are storage bins with both open and closed side walls and/or bases. Would you like a reinforced base in your Euro storage box? That is no problem at all. We also have matching Euro Container Lids available for all our Euro containers, both with hinges and without hinges.
Order Euro standard Boxes or other plastic bins online
If you are interested in buying plastic containers or other load carriers, you can order them directly on our webshop. If you have any questions or would like to purchase a larger quantity, please contact us via [email protected]  or via +44 1777 322100 for a quote.