Ben Boughtwood
Dollies and Furniture Dogs - How do you use them?
In a previous blog, we already talked about different types of warehouse trolleys and their applications. Now we focus more on the use of one of those warehouse trucks: the dolly, also known as a furniture dog.
In this case, we mean a transport dolly (also known as a furniture dog) as a low platform with four castor wheels underneath. Only platforms without a pull rod are included in the dollies category. As soon as a drawbar is attached to the platform, it falls under the platform truck category, which is another form of internal transport.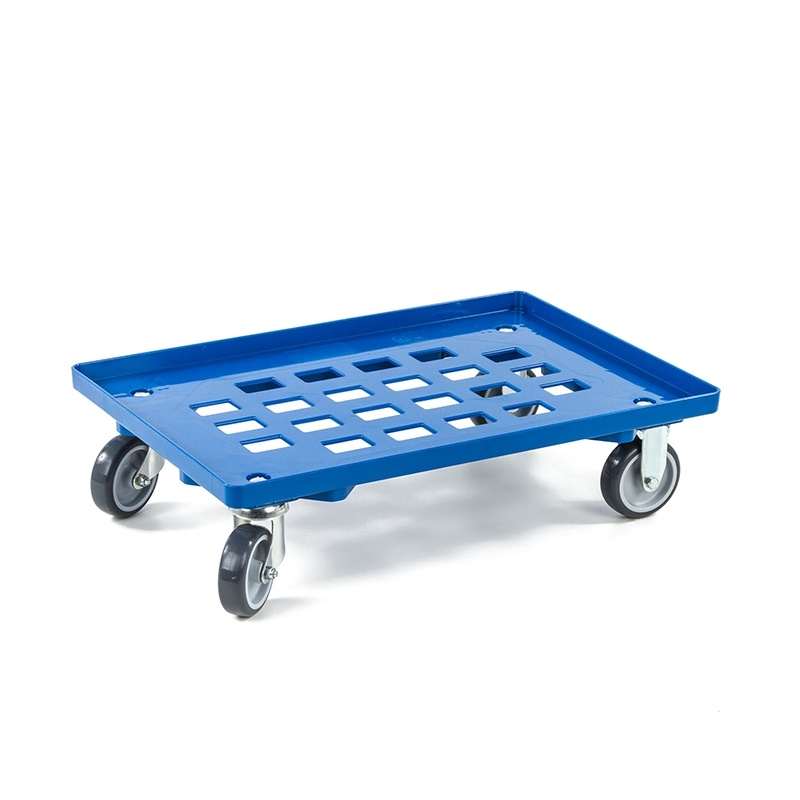 When you move house, a dolly is often used to transport furniture (closets and sofas, for example) from a house to the moving van and vice versa. In a warehouse, a dolly is often used for internal transport of, in particular, plastic containers such as Euro stacking containers and folding crates.
Because a transport dolly is often used for transporting heavy loads, it is extra important to only use it in situations for which it is intended and only to use it in the correct way. This way you prevent injuries and accidents.
Transport dolly tips or use.
Lift as much as possible from your knees and not from your back or arms
Try to distribute the weight of the load as evenly as possible over the platform to prevent it from falling over
Place the heaviest goods on the bottom, so that the centre of gravity remains as low as possible and your dolly as stable as possible
Do not stack too high, so that you always have a clear view of your walkway
Push the dolly instead of pulling it
Transport dolly - buying tips
Purchase a dolly with sufficient carrying capacity
Use non-marking wheels in environments with sensitive floors
For extra stability, use a dolly with an anti-slip layer or with an attachment edge
Questions about this blog about dollies, furniture dogs or other matters regarding load carriers or the service we offer as Rotomshop.co.uk? Please contact us via [email protected] or 01777 322100. We are happy to assist you!