Ben Boughtwood
Pallet Collars - optimise your storage & transport
Use pallet edges and collars on pallets as a crucial addition to the logistics chain. Pallet edges enable the user to turn a pallet into a bin in no time at all by placing or stacking one or more pallet edges on the edge of a pallet. Finally, a suitable lid can be added to the whole so that your cargo is fully protected. We are happy to explain the options, variants and application in more detail.
Wooden and plastic pallet collars application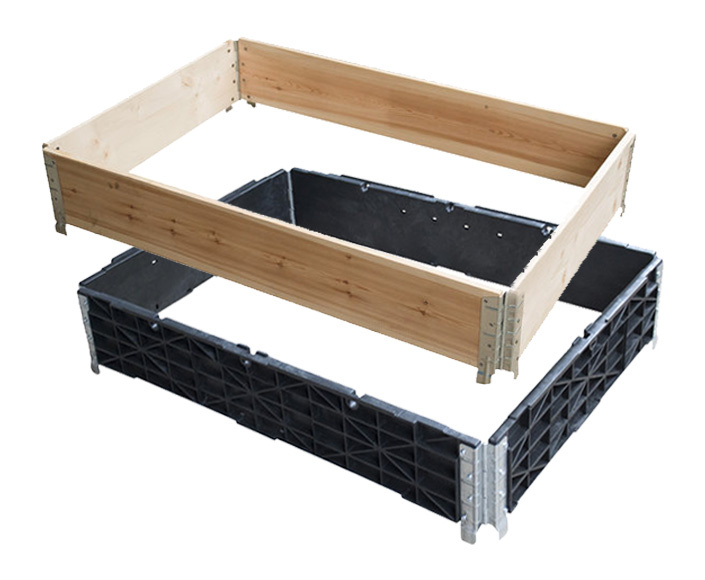 Because of their simplicity and robustness, pallet collars are widely used. Often three or four pallet edges are stacked on top of each other to form a higher box so that the load is properly held in place. If a lid is placed on the top pallet edge, the whole is extremely weather-resistant. The pallet box created in this way not only offers extra protection against the elements but also against theft. Very handy if you transport or have valuable goods in storage. See here the range of wooden and plastic pallet collars and edges of Rotomshop that are widely used in the following sectors:
Do-it-yourself industry

Automotive sector

Agriculture and horticulture

Logistics

Supermarkets and retail
In many cases, a plastic pallet box can also be chosen for the above applications. Pallet boxes have specific advantages and disadvantages over pallet borders and may be worth considering depending on the industry.
Pallet edges and their properties
You can already get a used wooden pallet edge of 1200x800x200mm for £11.00 each on Rotomshop UK. The entry-level price of plastic pallet edges is a lot more expensive at £37.99 (December 2021). On the other hand, the use of plastic pallet edges has a number of advantages:
Many plastic pallet edges meet HACCP food safety standards

Plastic does not absorb water

No splinters or pieces of wood on the work floor due to wear

A relatively low own weight

Plastic pallet edges can be exported directly to countries outside the EU without phytosanitary treatment (ISPM15)
BLOG TIP: The above advantages of plastic also apply to pallets. More about this in our blog wooden pallets vs plastic pallets.
In terms of dimensions, there is little difference between wooden and plastic pallet collars. The height of wooden pallet edges and plastic pallet collars is usually 200mm. The most common dimensions of pallet edges are 1200x800mm, 1200x1000mm and 800x600mm respectively.
Finally, a distinction can be made between pallet edges with 4 hinges and with 6 hinges. The advantage of 4 hinges is lower costs and improved user-friendliness. The advantage of a pallet edge with 6 hinges is that when folded it is no larger than a pallet, and therefore does not form a protruding load when these are transported in a stack with a pallet. Worth considering if the transport has to be as efficient as possible.
Pallet edges accessories

Fill your pallet collars with multiple product types and still keep an overview? Then use dividers. Depending on the selected size of the pallet edge (and pallet), you can create 2 to 8 compartments with dividers. Very useful when you want to separate smaller products from each other but still want to keep them within reach. Very useful for various industrial applications or, for example, in agriculture and horticulture.
With plastic attachment corners and spacers, you ensure that a stack remains sturdy. You clamp it onto the top pallet edge. This way you create a stable base on which you can stack the next pallet (with pallet edge). Very useful when you have limited floor space.
The most commonly used accessory for pallet collars is the lid. As mentioned before, a lid ensures complete closure of the pallet edge, with the result that your products are stored well protected and secured or come from A to B. An indispensable addition to a well-controlled logistics chain.
Metal pallet collars

Metal pallet edges are also called extension edges and look a lot like gitter boxes. However, where stillages are usually used in the heavier industry, collars are usually used for lighter work. Unlike closed wooden pallet edges and plastic pallet edges, they are not intended to shield the load as much as possible. Metal pallet edges have an open grid structure and thus offer a view of the contents. Very useful for applications in environments where the grab stock must be within reach and you can immediately see whether replenishment is required or not. They are used in shops, supermarkets and hardware stores to create so-called impulse bins for customers, usually in aisles and at the checkout. Look at our range of metal collars from Rotomshop UK here and get inspired!
Questions about this blog regarding pallet edges, their application or questions about other load carriers from Rotomshop? Contact us via [email protected] or 01777 322100.