The 7 advantages of Attached Lid Tote Boxes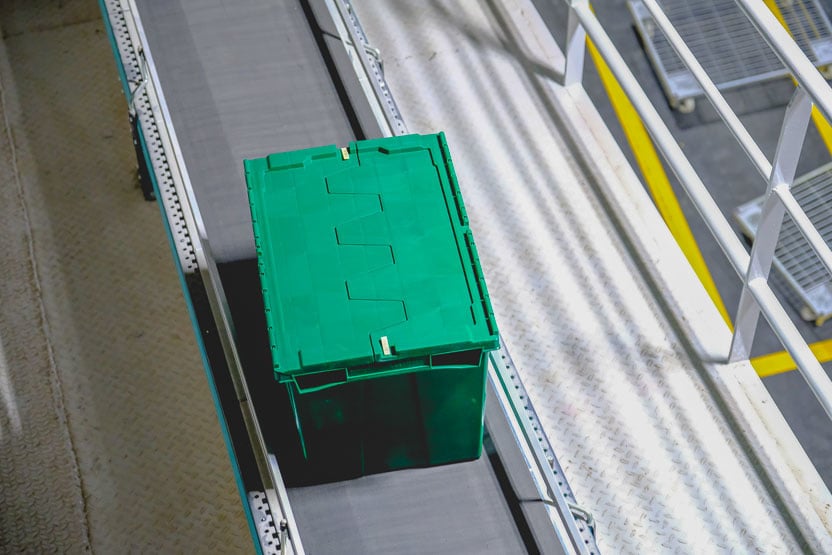 Plastic containers and their production are today one of the most developed sectors of the economy. It can be said that virtually every product sold today is somehow dependent on the production of plastic containers. These types of trays and containers are used in industry, commerce and services, and the modern world could not do without them.
Nestable attached lid tote boxes are plastic containers, ideal for high-quality goods transport and storage. The boxes are made of robust PP (polypropylene) and meet the logistical needs of many industries. The distribution containers are ideal for packing goods and moving house.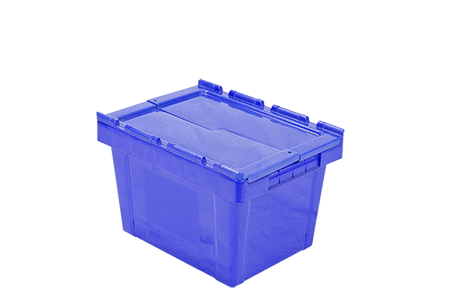 The sealing possibility increases its functionality. The containers have the possibility of sealing, which means that the goods inside are protected at all times. The tote boxes also have an integrated 2-part hinged cover, thus protecting against the theft of high-risk goods or high-value goods. They are ideal distribution boxes for a wide range of applications in the sectors of production, trade and services.
Why should you choose plastic attached lid tote boxes? Currently, many industries use sealed trays and boxes because they have many advantages in terms of product storage and reduced packaging costs. The advantages of nestable containers with lids include:
1. Safe storage
Installing security seals protects high-value goods in transit. Locking seals on the covers prevent the lid from opening, close the plastic container and seal it. You can easily check that the contents of plastic boxes have been accessed during distribution; if the seal is broken, the container has been opened by an unauthorised person. Thanks to the solid construction of the totes, all your products will be properly secured during transport within the country or abroad. This is especially useful if you are carrying expensive products.
2. Saving costs
Changing disposable cardboard boxes to reusable plastic tote boxes will help you save money by reducing supply chain costs. Each plastic box can certainly replace hundreds of individual cartons because you can use it many times. It is also much more durable. These containers are maintenance-free, save on disposal or installation costs and can be used to save valuable space during return transport. The savings are also because you do not have to buy these plastic lid containers right away, but you can rent them quickly and easily at Rotom for a single event or delivery.
3. Space-saving
Did you know that nesting empty plastic tote boxes save up to 76% of space? Thanks to their trapezoidal construction, empty containers nest inside one another, which allows you to save on the return transport of empty packaging. When the lid is closed, the box can be stacked, and when it is opened, nest into one another, which saves space during transport or storage.

4. Brand building
Printed information or codes on sealed containers also advertise user branch, especially in applications targeted at customers in the retail and service sector. The large surface of the printed container with the lid enables the clear presentation of both the company logo and contact details. Using plastic lid trays, your business looks professional compared to paper cartons or bags.
5. Pollution prevention and sustainability
The big advantage of plastic containers for distribution is their durability and impact resistance. Our products are made of polypropylene and they are resistant to the extreme temperatures ranging from -20°C to 40°C. Thanks to the lid attached to the tote box, everything you store will be protected from external factors. Correctly fitted seals protect against attempts to manipulate the product. This is particularly important when intentional contamination can be a risk, especially for distribution in the pharmaceutical industry.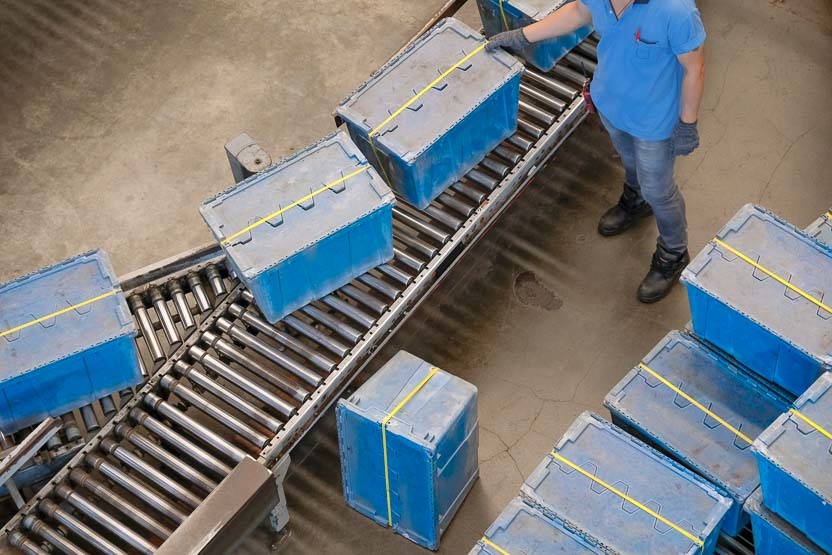 6. Variety of uses
Plastic containers with a two-piece hinged lid have been developed with safety in mind. Therefore, they are popular in shopping stores that require extra attention, such as pharmaceuticals, electronics, jewellery and cosmetics that store and transport valuable and desirable goods.
Often the nesting containers for stacking used in distribution industries such as FMCG - i.e. the industry of fast-moving consumer goods such as household products, over-the-counter drugs, food and personal hygiene products, cosmetics, plastic products, stationery, pharmaceuticals, consumer electronics etc. They are an indispensable logistic link in the transport of products from the distribution centre to the store, where the employee pulls out the products from a sealed container.
7. Many products supporting containers handling
If you transport large quantities of stored goods, you can be sure that our attached plastic nestable trays can be stacked on top of each other. Not to mention that they can be easily moved using our Dolly transport trolleys. You can transport multiple containers simultaneously, which significantly reduces the risk of breakage. It will save you effort and time. If you want to ensure even more safety for your goods, you can transport plastic containers with a special anti-theft roll container.
If you require more information, please feel free to contact us at [email protected] and we will be happy to discuss this product with you.