Ben Boughtwood
Warehouse Trolleys - indispensable in the chain
The speed and efficiency of internal transport in a warehouse is partly determined by the presence of the right tools. Warehouse trolleys guarantee a certain reliability and safety that can be of decisive value for the distribution flow. However, purchasing a pallet truck, for example, does involve certain choices and investments. We are therefore happy to explain, on the basis of our range, which aids there are and which functions they have in order to be able to work quickly, safely and ergonomically.
1. Pallet truck/pump truck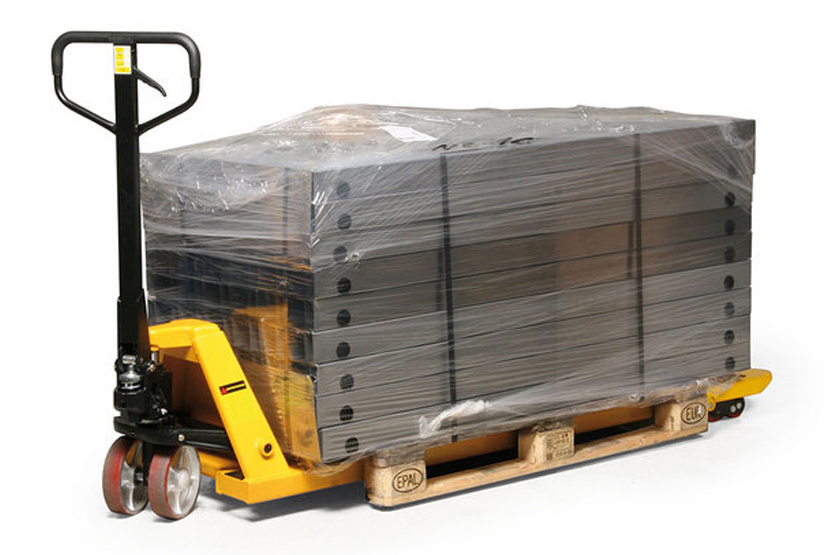 In warehouses where a lot of work is done with (loaded) pallets, a pallet truck or pump truck can be seen as an absolute must-have. A relatively simple hand pallet truck considerably increases the ease with which pallets can be manoeuvred in the right place. This ensures high efficiency and safety. Pallet trucks are very stable because the weight is kept low to the ground. The chance of a falling load is therefore relatively small.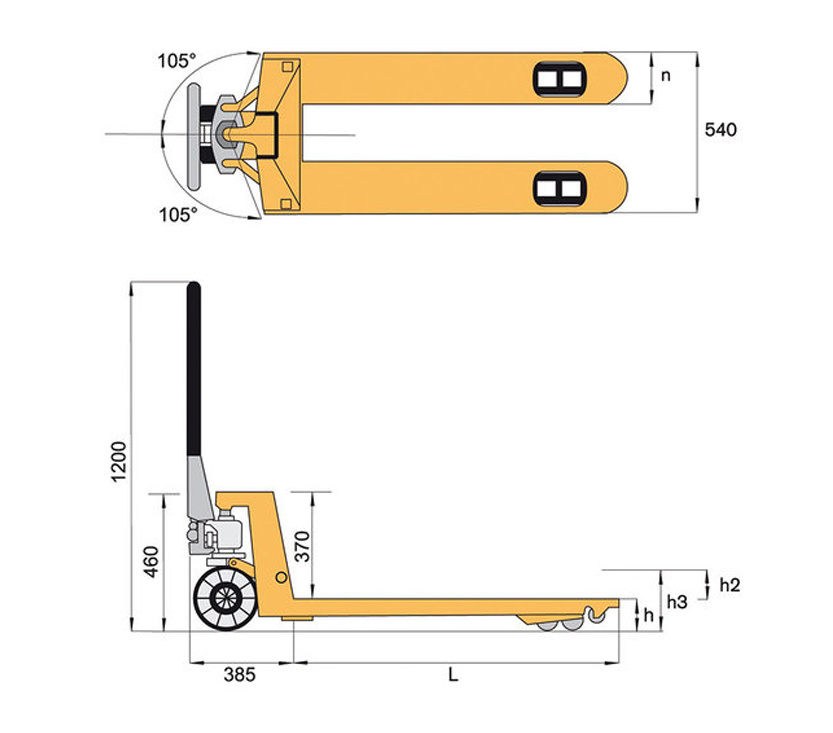 Pump trucks, also called pallet trucks, that we carry in our range have an average load capacity of 2000 to 3000 kg. In addition, they have two tandem fork wheels under each fork for optimum load capacity and stability. The rubber or plastic wheels on the driver's side of the pump trucks can be steered with the lever with which the load can also be 'inflated' or lowered. The fork is available in three lengths: the relatively short 800 mm is very useful for a Düsseldorf pallet, for example, the variant that is average with 1150 mm and 1800 mm (long) for extra deep loads. Most variants have an entrance height of 85 mm. Variants with a built-in scale are also available.
2. Stacker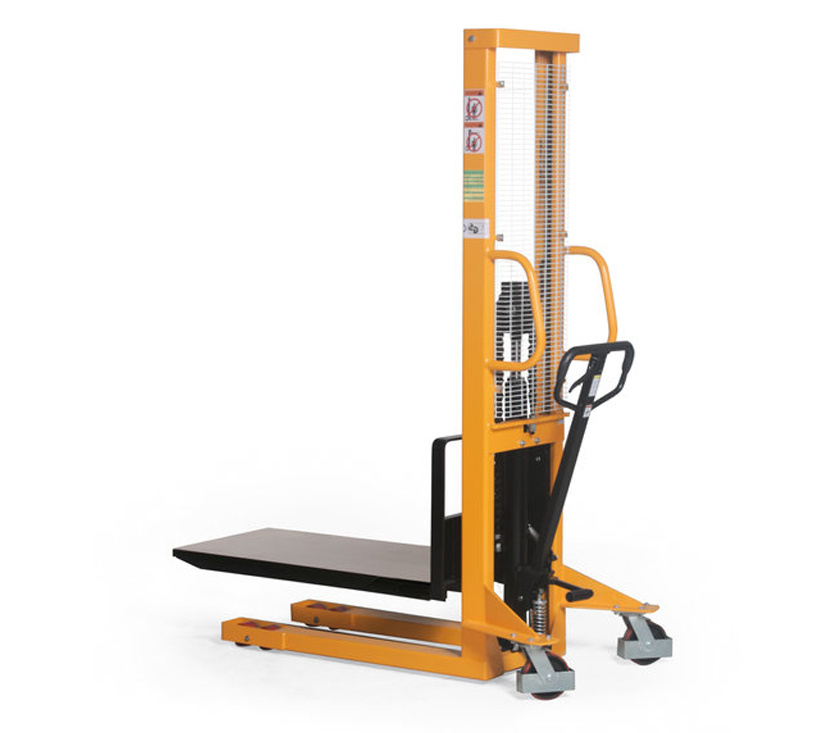 Stackers, also called hydraulic lift trucks, are intended to bring loads to a certain height so that they can be placed in or on a rack. They are a decisive aid in warehouses when manual power is insufficient and floor space must be used optimally. This makes applying levels a lot easier and safer. Thanks to their stability, stackers make working with heavier loads a lot safer and more accessible.
The stacker in our range has a lifting height of 1600 mm and a fork length of 1150 mm. Like our pallet trucks, this stacker has tandem fork wheels that provide extra stability and distribution of the load. With a load capacity of up to 1000 kg, they are widely applicable within the logistics sector. Both front wheels are made of polyurethane and are equipped with a brake. Its own weight is 210 kg.
Do you prefer to work with a loading platform instead of spoons for additional applications? This stacker is also available with a loading platform instead of spoons at an additional cost (see picture). This does not affect the maximum load capacity or the dimensions (1150x550 mm)
3. Scissor Lift Table / Cart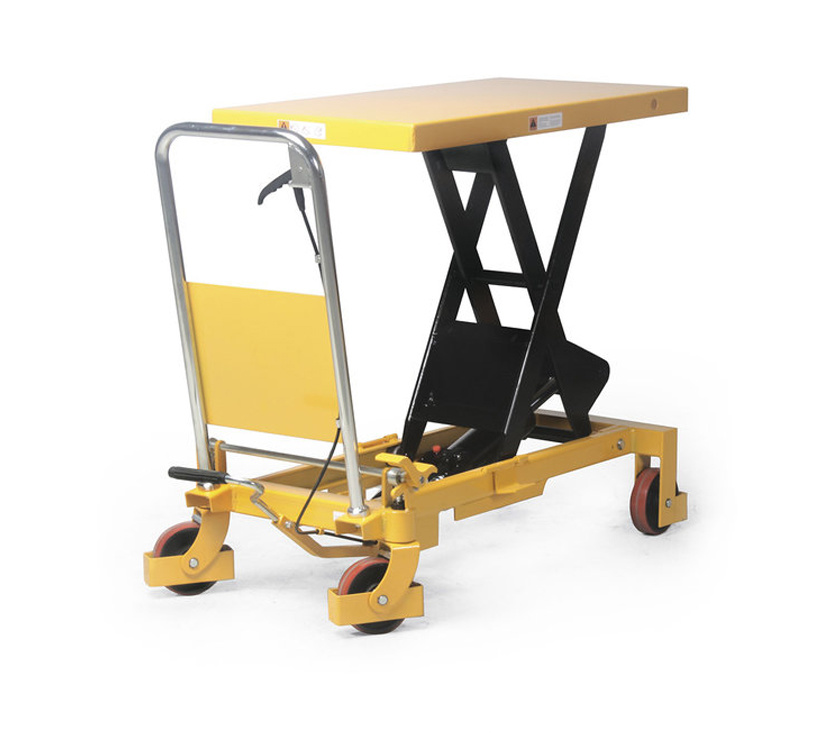 A mobile scissor lift table is indispensable for ergonomics in many department stores, warehouses and in the distribution chain. It gives the operator full control over the height of the load. For optimal comfort and stability, many variants are equipped with polyurethane wheels that absorb shocks extra well. Hydraulic scissor lifts are easy and ergonomic to operate with the foot pedal that controls the jack height. For example, the lift table is raised to the desired height level with overload protection to protect the user and the pump.
Most scissor lifts in our range have a foot pump that can tirelessly lift and hold the load up to 740 mm or even 1300 mm, depending on the version you choose. Planer lift tables are ideal for use in storage, transport and grade-separated conditions. The lift table in this image has very compact dimensions in its entirety: 970x500x900 mm. This guarantees you access to even the most limited spaces in your warehouse.
Questions about this blog about warehouse trucks or other matters regarding load carriers or the service we offer as Logistiekonline? Please contact us via [email protected] or 01777 322100. We are happy to assist you!