Ben Boughtwood
Roll containers - your logistics on a roll
Roll containers make your supply chain run smoother, whether you run a small business or a large organization. Roll containers are often used in the logistics of factory processes, laundries and retail. With the advance of e-commerce, this logistics tool is increasingly used due to its ability to organize order fulfilment. In particular, the size, the material and the operating environment determine the right roll container choice. We have explained the three most important factors for you to start using roll containers immediately.
1. Roll containers are diverse and increase convenience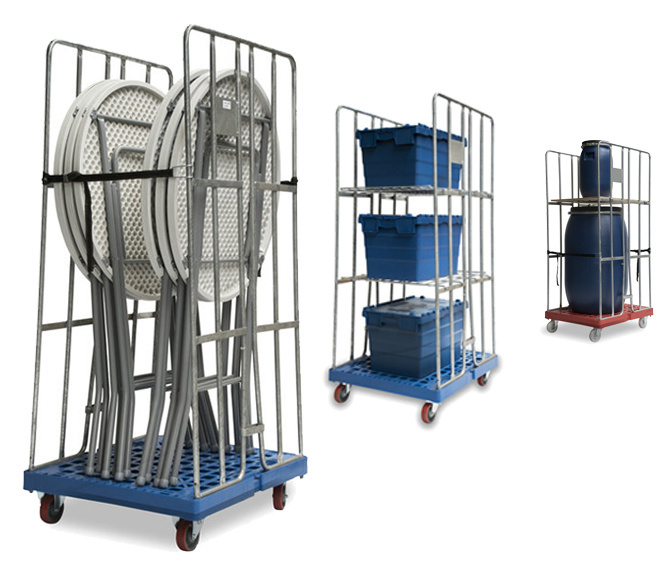 Roll containers have become an integral part of the transport sector. Various variants each serve the market in their own way and solve unique problems. For example, do you work in the retail sector and do you have a lot of return transports with empty roll containers? Then nestable roll containers are ideal because they are very space-saving. Do you transport products that need to stay cool or warm? Then choose a HACCP certified isothermal roll container. Do you work in healthcare or at a dry cleaner or other places where a lot of laundry is processed? Then a laundry roll container can be the solution. If you want to move a lot of valuable or fragile products, get an anti-theft roll container that can be completely closed. Finally, there are roll containers that are especially suitable for order picking.
You can further optimise roll containers by choosing the right (amount of) shelves, tensioning straps and other accessories. This increases your convenience and efficiency even further. With regard to roll containers, there is always a suitable answer to your logistics issue.
2. Roll containers are durable
Buying roll containers means being future-proof. An average roll container is very sturdy thanks to its design. The variant with two side gates (2 sided roll containers) and variants with rear gate (3 sided roll containers) and front gate (4 sided roll containers) are inherently more sturdy and stable, respectively. The chosen materials also influence this. Full metal roll containers are generally the strongest. Wooden and plastic floors and shelves are used, for example, to save on production costs or weight. The right plastic offers the additional advantage that it is moisture-resistant and therefore washable.
The metal of a roll container is generally treated by electrolytic or hot-dip galvanising. Both treatments provide the metal with a layer of zinc that prevents corrosion. Electrolytic galvanising means that, thanks to electrolysis, a thin layer of zinc is applied to the metal. Also known as electroplating, this method produces a neat, glossy finish. Hot-dip galvanising of metal offers more anti-corrosion properties thanks to a thicker zinc layer. However, there is a less beautiful finish and more post-processing. Occasional outdoor use is no problem in either case. However, should the roll container become structurally wet, a hot-dip galvanised roll container is the best solution. For reference, many lampposts are hot-dip galvanised to resist rust for a long time.
Roll containers are generally very durable and the ideal solution for transporting relatively heavy products or small goods. It is not without reason that we offer a selection of used roll containers that we are happy to give a second life. They can increase your efficiency, and protect and secure your products. So a win-win solution.
3. Roll containers increase safety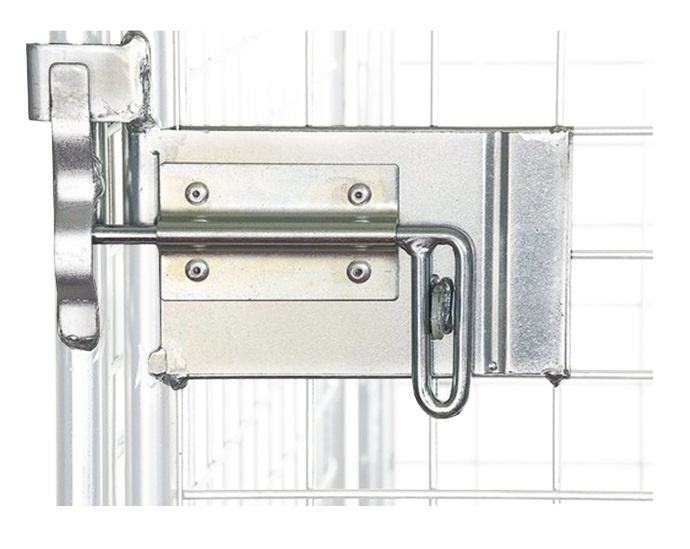 In addition to the safety of the transported items, there is of course the safety of the operational personnel which must be guaranteed. Generally, roll containers are not equipped with a foot brake. This is to prevent them from being put on the brakes on sloping slopes, where a relatively small brake is not guaranteed to keep a heavy roll container in place. Of course, we do offer wheels with brakes, these are always castors. We therefore strongly recommend that roll containers only brake on a straight surface to prevent accidents.
Furthermore, the distances of the metal mesh structure have been carefully considered to prevent products from falling out or sticking out, but also to prevent fingers or limbs from getting stuck. Also handy: 4-sided roll cages with a lock at the front can help keep all contents secure.
These are some important benefits of using these roll containers that should definitely be taken into account when considering purchasing logistics resources.
Do you have any questions about this blog regarding roll containers or questions about other load carriers? Contact us via [email protected] or 01777 322100.