Ben Boughtwood
Stacking racks - strong, stable, quickly applicable
Stacking racks are also known as pallet racks, stacking racks, post pallets or mobile stacking racks. Stacking racks are modular, metal racks with removable, vertical tubes that are perfect for storing pallets with their load. The internal dimensions of stacking racks are therefore slightly larger than a standard Euro pallet of 1200x800 mm. A double stacking rack can be used for block pallets of 1200x1000 mm. Stacking racks are very quick to set up and a perfect solution for storing cargo without having to remove it from the pallet first. Read more below about the most important properties of stacking racks.
Stacking racks as modular pallet racking
Stacking racks are modular and highly engineered to store cargo on pallets. A forklift truck is usually used for assembling, dismantling and filling the pallet rack. You can create a pallet rack by stacking racks and creating multiple levels. The choice of different tube lengths guarantees sufficient space for higher loads. This method uses the least floor space and is ideal when space is limited. This principle can of course also be applied in width and depth by placing several stacked racks next to and behind each other. This way you create a multi-dimensional platform for larger and longer items. It is sensible to store even lighter material from bottom to top so that it does not become top-heavy. All in all, stacking racks are an extremely stable solution. The modular character is underlined by the various options available: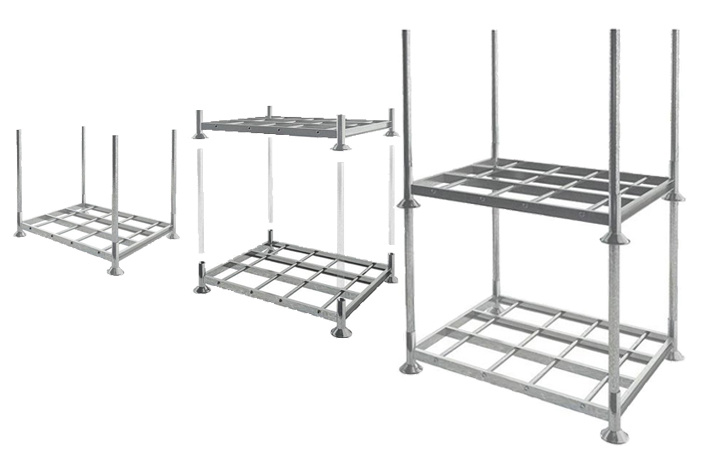 The advantage is that when the need for storage capacity decreases, it can easily be reduced to the desired level. The surplus stacking racks, including the unused tubes, can be stored compactly until the peak moments are around the door. This flexibility makes the stacking rack unique in its kind.
Stacking racks are safe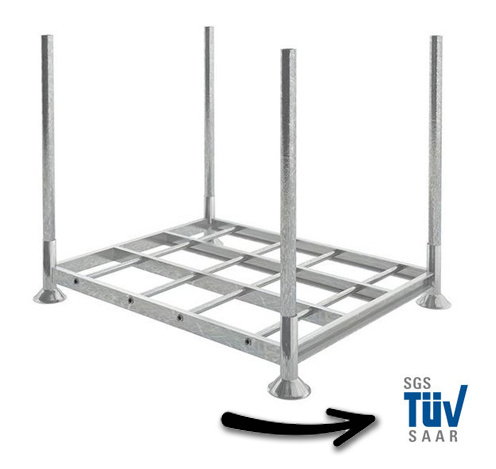 All our stacking racks are TÜV certified. This means that they have passed various safety and stress tests that are relevant to the application. As mentioned before, safety is of course subject to the way in which the stacking racks are loaded. Good weight distribution with the lowest racks being the most heavily loaded offers the best safety. Depending on the stacking height, a stacking rack can carry 1500-2000 kg. The maximum dynamic load capacity of a euro pallet (EPAL) is 1500 kg, which corresponds to that of a stacking rack. An important advantage of the use of stacking racks is that not the racking load capacity but the dynamic load capacity applies and is therefore suitable for pallets that are not in the so-called racking system can be applied. This is because they offer insufficient strength or do not have the correct pallet structure. At 1000 kg, the maximum load capacity of a Big Bag stacking rack is slightly lower than that of standard stacking racks. It is wise not to lose sight of the total carrying capacity and to calculate how much weight you can lose in the total pallet rack.
The modular aspect of stacking racks does not come at the expense of sturdiness, on the contrary; Multiple stacking racks can offer large and elongated goods more stability and therefore more safety. It is wise to let loads protrude from the racks as little as possible. This prevents instability and you never drive or run into protruding loads.
Stacking racks are sustainable
You choose to stack racks not only because of the diversity in their application but also because of their long lifespan. All our stacking racks are hot-dip galvanised. This means that the complete metal stacking rack is immersed in a heated (450°C) bath of liquid zinc. This process applies a relatively thick layer of 30-200 µm (micrometers) to the metal and is therefore extremely resistant to corrosion. Certainly in relation to electrolytic galvanizing, also popularly referred to as galvanizing, one can speak of even more stainless and therefore durable treatment. The same treatment also applies to the tubes, Big Bag racks and stacking racks with a 50x50 mm grid design.
Although hot-dip galvanizing provides relatively strong protection, the result is that there is no glossy finish. The advantage is that small scratches and dents will lead to rust forming much less quickly because this perforates the protective zinc layer less quickly. Outdoor use or use in wet environments is, therefore, no problem for stacking racks.
Making a pallet rack from stacking racks can be done in endless ways. Large or small, high or low, with stacking racks you choose it yourself and you are flexible.
Questions about this blog regarding stacking racks, their application or questions about other load carriers from Rotomshop? Contact us via [email protected] or 01777 322100.